Library Administrative Offices

Questions? Contact us at: 410-455-2356
Email: aok@umbc.edu
Fax: 410-455-4078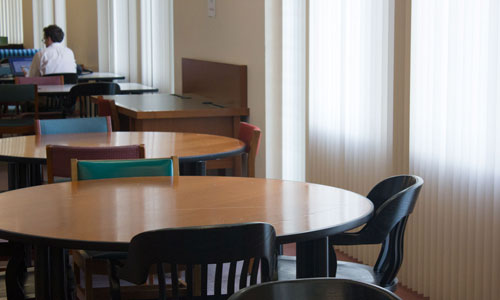 Mission and Vision
Mission
The Albin O. Kuhn Library & Gallery promotes intellectual growth and creativity by developing high quality collections, facilitating access to information resources, and furthering innovative teaching and learning. In support of the University's mission, our Library is dedicated to diversity, social responsibility, and lifelong learning.
Vision
The Albin O. Kuhn Library & Gallery will become the center of the University's intellectual and creative life.
To serve future users, we will transform the Library's physical and virtual space to adapt to changing needs; respond to advances in research, teaching, and learning; and invest in dedicated and knowledgeable staff by supporting professional growth and encouraging innovation.
Our commitment to this vision will position us as an institutional asset as the University looks to advance knowledge, economic prosperity, and social justice.
Strategic Plan
AOK Library &amp Gallery's Strategic Plan for Fiscal Year 2018-2023
AOK Library & Gallery's Strategic Plan Dashboard
---
Learn about how to become a Library Student Assistant - we employ around 100 every year. This page also lists Faculty (Professional) and Technical (Support Staff) opportunities.
---
There are several Library spaces that can be booked for events. This page offers details about each space and the booking process.
---
Payroll and Personnel Information
Library Staff and Faculty can find helpful forms and policies on our Library Staff Wiki.
---